See all our open positions listed below. We are always looking for new enthusiastic talent!
Careers
See all our open positions listed below or submit an open application.
With Spinverse, you can help our customers tackle and solve global challenges
Do you get excited about growing a B2B SaaS start-up? Do you shine in acquiring new customers and building long-term customer relationships? Are you eager to formulate and execute digital strategy and products? If your answer is YES, we've got an excellent opportunity for you. Join our team at Spinverse as the Business Development Manager for our AI-powered tool, Spinbase.
Spinverse is the Nordic leader in innovation consulting. We are committed to support customers to secure public funding, find partners for collaboration, and make an impact with groundbreaking innovations. Using our expertise in helping our customers win more than 100 M€ in EU funding for innovation projects, we developed Spinbase, an AI tool to automate the EU funding process. Spinbase is being used by universities, research organizations and municipalities around Europe.
As the Business Development Manager, you will be responsible for our AI-powered tool, Spinbase. Your role will be to acquire and retain customers for Spinbase and help developing the product to be the digital tool in funding projects. Spinverse is putting a lot of effort into digitalization in the coming years, so you will have the opportunity to shape and execute upcoming digital services/products within Spinbase as part of the overall digital roadmap for Spinverse. We hope you have business acumen, great communication and relationship skills, and expertise in growing a B2B SaaS.
Skills and experience that would help you succeed in this position:
Demonstrated success in business development and strategy, ideally in a B2B SaaS environment
Experience in managing the sales funnel from marketing to deal closing
Experience from planning and implementing acquisition and nurturing campaigns through different digital marketing means and tools such as HubSpot and paid ads
Ability to communicate clearly with the product team on customer needs and expectations; support the product development roadmap
Excellent spoken and written English.
Knowledge of EU finding instruments andexperience working in a research-intensive organization (universities, research institutes) or public organizations (municipalities, regional development companies) is a valuable advantage but not an absolute must.
Why work with Spinverse?
We offer you a diverse working environment where digitalization plays an instrumental role in supporting our growth strategy. In this role, you will have a true opportunity to take part in digitalisation journey as well as support researchers and innovators around Europe to finance their innovation ideas.
As a team, we are a collective of highly educated professionals with working experience in a wide variety of industries and technology knowledge. We are Great Place to Work certified and extremely passionate and proud of the impact we are creating through our work and our culture.
Recruiting process
We will be reviewing applications on an ongoing basis, so if this sounds like an opportunity you want to pursue, please send your application soonest but no later than 30th December 2022. If you have any questions about the position, you can turn to Niklas Weckström, VP New Business Development, tel. +358 45 268 3622, on 8th December between 10 and 10.30 and 11 and 16th December between 15 and 15.30.
Join our committed colleagues who are proud to make an impact on global challenges together with the customers!
ABOUT SPINVERSE Spinverse is the Nordic leader in innovation consulting, helping customers grow and solve global challenges with innovations. Our experts are committed to support customers to secure public funding, find partners for collaboration and make an impact with groundbreaking projects. Digitalisation and sustainability are driving the need for our customers to renew and grow through innovation. These customers range from the most disruptive large enterprises to smartest growth companies throughout Europe. www.spinverse.com.
Contact person:
Niklas Weckström
+358 45 268 3622
Spinverse is the Nordic leader in Innovation Consulting, specialized in creating open innovation ecosystems, funding, corporate renewal and boosting growth. We drive innovation in all key industries: health, electronics, ICT & security, circular bio-economy, manufacturing and energy to solve the major global challenges.
Our customers range from largest corporations to the smartest growth companies in the Nordic countries and other parts of Europe. We help our clients to manage innovation portfolios, build project plans, select partners, find funding and lead the projects. Together with our clients we build new businesses from 100 M€ upwards.
Spinverse employs more than 60 international professionals at its offices in Finland, Sweden and Germany.
To increase our delivery capacity and client reach, we are looking for experienced freelancers around Europe. You will be involved in a wide range of consulting assignments, typically in the areas of Open Innovation, corporate renewal and growth.
Our value proposition for the freelance partners is a win-win relationship that allows the freelancer to:
better focus on assignments in their core areas of expertise and together win assignments that neither of the partners alone could sell or deliver;
increase the sales and the share of billable hours by leveraging the Spinverse brand as well as marketing and sales resources;
leverage Spinverse's capacity of delivery support and administration to reduce the time spent on supplementary activities.
We are looking for different freelancers for a variety of roles, including:
Bid writing expert, with successful track record in national and EU funding instruments and proposal preparation;
Multi-party program and ecosystem expert, with good project work and management skills in certain industries or across industry boundaries;
Customer relationship guru, capable to act as the interface between the client and Spinverse's program execution team.
Relevant Competencies:
M.Sc. or D.Sc., for example in engineering, industrial management, economics or natural sciences
Excellent writing and presentation skills in English (especially technology-related), other European languages are a plus
Business and / or industrial experience especially within bio-refining, ICT (e.g. 5G, cyber security, FinTech, AI/ML, BigData) or Industry 4.0 (e.g. digital twins, sensors, data analytics) sectors as well as private fundraising and public funding applications (National/EU instruments)
Understanding of business cultures of entrepreneurs, corporate executives, scientists etc.
Good social skills and ability to interact with customers and project stakeholders in a client-oriented way
Strong problem-solving skills and ability to challenge the customers
Ability to prioritise and attention to detail
To express your interest in the freelancer relationship, please send your LinkedIn Profile URL or resume, cover letter (max 500 words) with an indication of your typical daily rates in relevant projects.
Contact person:
Dijana Soininen
+358 400 248 973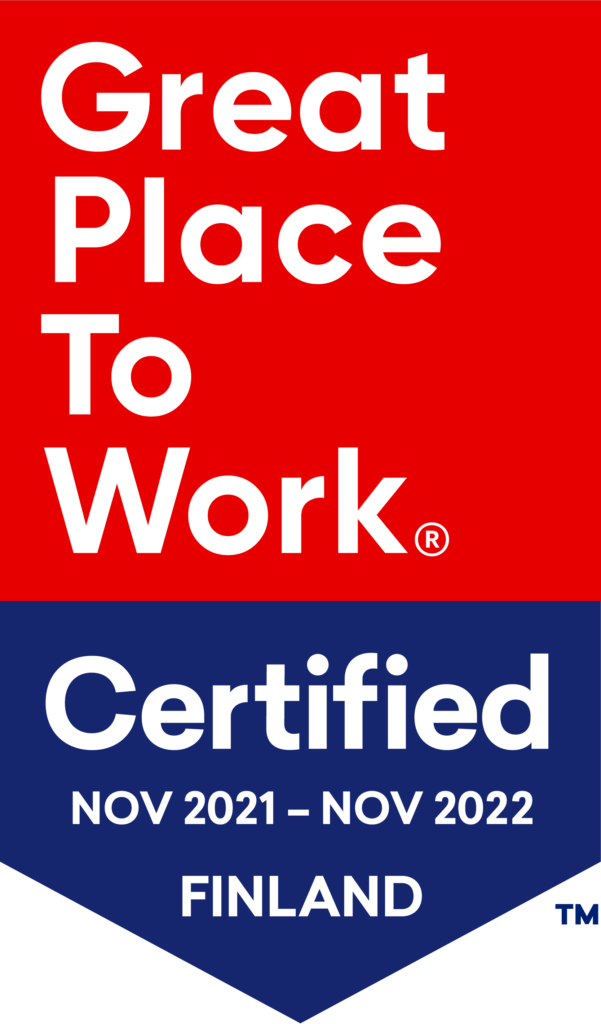 open application
Didn't find a suitable position for you published here?
Send your application here:
Contact us
Dijana can tell you about our career opportunities!