Client News
Spinverse News
- News article -
Announcing the CTO of the Year 2011
16 Mar 2011

Pirkka Palomäki, F-Secure nominated as CTO of the Year 2011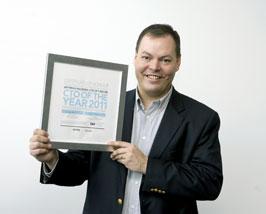 Technology Academy Finland, in cooperation with Spinverse, has named Pirkka Palomäki, F-Secure's Chief Technology Officer, as CTO of the Year 2011. Palomäki has played a significant role in turning F-Secure into a global technology leader in the data security sector.
The CTO of the Year Award is given to exceptional technology leaders who meet the following criteria:
The CTO of the Year:
The winning CTO adds significant value to the company's performance through technology
The CTO communicates company's technologies and their benefits to all stakeholders in an understandable way
The CTO is an inspiring teambuilder and -leader
The CTO's Company:
The company's technology-enabled product and service portfolio is a globally competitive, well-known and innovative
The company has built a strong technology collaboration community
The company has strong innovation process encouraging company-wide participation
Societal Impact:
The CTO contributes to working groups, societies and other bodies working for development of the society at large and his/her industry in general
The Award jury included
Yrjö Neuvo, Board Member, Technology Academy Finland (Chairman)
Mona Grönstrand, Former CTO of Datex (GE Healthcare)
Lars Gädda, Research Director, Forestcluster Ltd
Tapani Järvinen, Chairman of Technology Academy Finland Industry Council
Matti Kleimola, Professor, Former CTO, Wärtsilä Corporation
Pekka Koponen, CEO, Spinverse
Matti Packalén, Board Professional
Jari Pasanen, Vice-President, SITRA
- Contact us -
Want to learn how Spinverse could help you? Contact us now!